If you think raws sterodis,semi-finished sterodis oils or
SARMs Raws
has a higher risk of side effects,and you`re not suitable for using
Bodybuilding Peptides
,but you still want to use certain product to help you gain muscle,Human Growth Hormonewill be your better choice.
Human Growth Hormone
is also called somatotropin or GH(
Growth Hormone
),which is completely the same thing as naturally produced hormone.High level of toleration is one of its advantages,which is not only suitable for medicine use,but also Performance Enhancement.Human Growth Hormone is one of the most important hormones in the human body. It affects our bones, skeletal muscles and viscera and functions in many other parts of the body.
Although Human Growth Hormone was originally created to treat GH deficiency,because it has too many benefits ,which make it also highly popular in bodybuilding. HGH,Jintropin,Hygetropin,Kigtropin and so on are very popular among users.The popularity is easy to explain – Human Growth Hormone combines 3 benefits:
.good effexcts on muscle gains
.fat loss at the same time as gaining muscles
.few side effects( HGH is well-tolerated both man and woman)
Dosing of HGH
For anti-aging, general health & healing, fat mobilization:
2-3 IU`s per day will be sufficient for the most people. A dose of 1.5 to 2.0 IU`s is considered to be a full replacement dose for those in their middle-age and beyond.
For gaining lean muscle and substantially improving body composition:
4-8 IU`s per day will be necessary. Most people will respond very well at a dose of 4-5 IU's per day. 4iu is an effective dosage for starting
Hgh Bodybuilding
cycle,so 4-5 IUs is enough for your first experience.Higher dosages like 12-15 IUs are needed only if you are more than 100 kg of lean mass or performing bodybuilding professionally.
Regardless of your goal, generally speaking, starting HGH with low dose is the best way to let you adapt to HGH,also making it easier for your body to get into high doses.This will enable you to avoid or at least minimize the effects of many more common aspects of -hgh, such as swelling, joint pain, and swelling.
When should I inject HGH?
The best time for injection is in the morning,just after you wake up and fast.Second injection should be after 5-6 hours after the first. Some people advice to do it after 3 hours, but it isn`t correct.Both injections should be equal in quantity.
With or Without
Anabolic Steroids
?
If you want a milfer and subtler effect,you can just use HGH alone.When you use HGHfor purpose of performance enhancement, dosage will range from 2iu per day up to as much as 8iu per day. You should take between 6iu and 8iu during your HGH cycle if without anabolic steroids,and you need to last a longer cycle about 12-16 weeks.If you use HGH with ananbolic steroids,dosage just need to be 2iu and 4iu a day.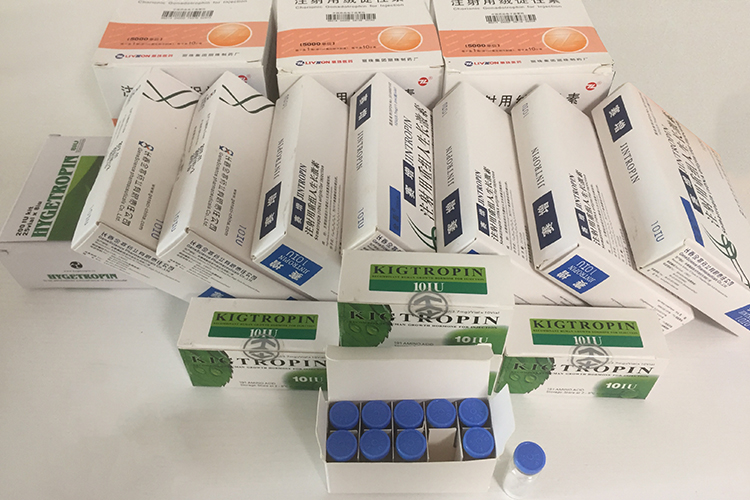 Human Growth Hormone VS Steroids
Some people like to only use Human Growth Hormone(HGH) for the purpose of bodybuilding,because it has very few side effects and does not cause chemical dependence.Human Growth Hormone(HGH) is generally well-tolerated in both men and women.Human Growth Hormone(HGH) takes a while to work; most users must stay on it for several months in order to notice any real effects. Anabolic steroids can provide bulking or cutting results in as little as a few weeks.
Anabolic steroids are valuable in the medical world because they treat a number of diseases.
Whether you want to use anabolic steroids or Human Growth Hormone(HGH) depends on many things. Remember that Human Growth Hormone(HGH) is milder, but it takes much longer to provide results. Anabolic steroids can provide results much more quickly, but the risk of side effects is much higher.
No matter what products you use,
Raw Steroids
,human growth hormone,
Semi-Finished Oils
,bodybuilding peptides or Sarms Raws .Choose what is right for you,don't force yourself to use products that don't suit you,and remember use reasonably.